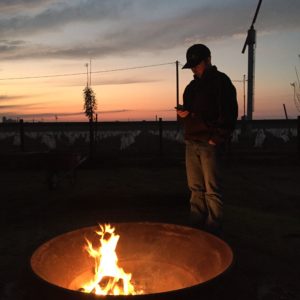 Mrs. Dano had mentioned wanting a fire pit for some time now. She wanted one and not knowing where to put it or exactly what would work, I (being a diligent husband) dragged my feet, made excuses and avoided the topic by all means. That all changed when I took delivery of a rock crusher cone from a local gravel pit.  Game on!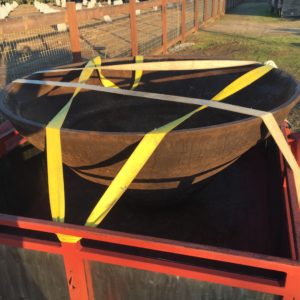 These thousand pound beauties are relatively common and I have seen pictures of them installed as fire pits around the interwebs. I scoped out a location out back that wouldn't wreck our traffic patterns and dirt bike test loop on our not so vast one acre estate.
Dropping this thing into the ground presented two problems: (1) How to dig a tapered hole to match the crusher cone angle and (2) how to lift it from my trailer and get it into the tapered hole all the while sitting level. The tapered hole is a must as you don't want this bugger shifting about after a few rains.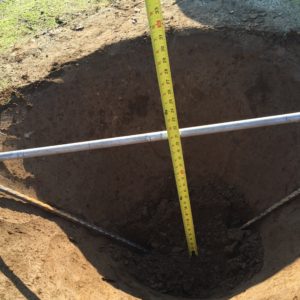 I used a common shovel to dig the hole in a relatively short time. I then placed two straight edges (some half inch square tubing) leaning along the tapered sides extending above the ground. I used a common length of mild steel welding rod to copy the angle of the cone. I compared the rod to the two straight edges by eye until they met.  I checked the depth with another straight edge and a tape measure; I wanted a lip to extend a few inches above the ground level.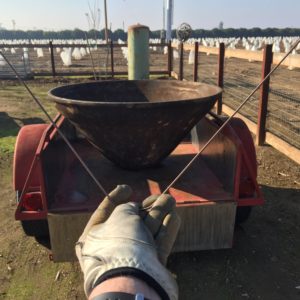 I must admit being more than thrilled when I remembered my friendly neighbor a quarter mile down had an operable field forklift that he uses on his citrus ranch.  Bingo!  I asked if I could borrow it, and in a few minutes I had roaded it back to the Casa Dano.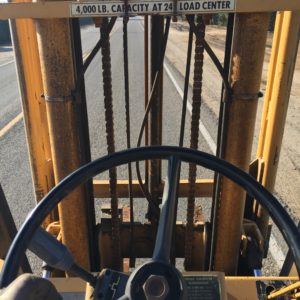 I rigged up some chains to get a grip on this heavy chunk of iron and manganese alloy or whatever the hell they make these things out of.  It took me under twenty minutes to place it level into the hole.  I delivered the forklift back to my neighbor in under an hour.  I was thankful that the forklift had allowed me to complete this project on my own.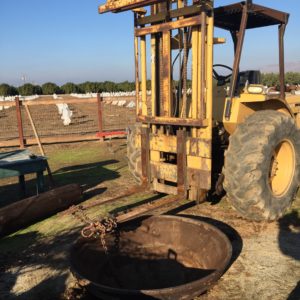 After back filling along the sides with water and soil I dropped some gravel into the bottom and packed it in.  There is about a ten inch diameter hole in the bottom of these things, so it will drain while sitting in the ground.  I had a round grate from an old Weber BBQ that I tossed in the bottom to keep the fire off the very bottom.
.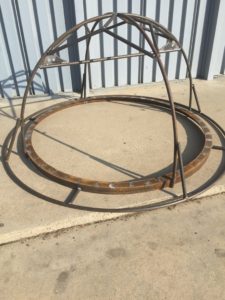 Because this thing has a diameter of about five feet and a lip above the ground and could cause a tripping hazard.  I rolled some 2″ angle and 40′ of 3/4″ HR round rod into this interesting looking human roll cage and foot rail.  I placed a horizontal rod across the center to allow hanging a dutch oven at some point; we shall see if it ever gets used.  It should keep drunk people out of the fire.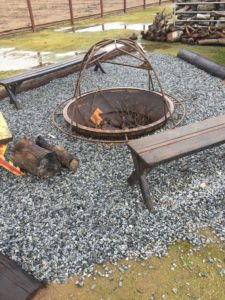 I finished up the odd shaped small area with some random utility pole segments dug down about half way and a trailer load of 3/4″ crushed rock.  The seating is from some redwood benches that were old when we bought the house 20 years ago.  Was this project a ton of work?  No, not really.  But if I didn't have the tools and equipment that I do, it would have been necessary to spend a few bucks at the rental yard to make it all happen.  Mrs. Dano is happy with her new fire pit and that is all that really matters now, isn't it?