I've never had a job welding from a task chair or a recycled office chair that some foreman bought at a pawn shop.  But I have seen plenty of TIG welding fellows in sneakers burning up bicycle parts in some pretty comfortable office furniture.  It looks like a nice gig with that air conditioning and the RHCP on the stereo….    Whether it is a table, chair, cabinet or some random crap that Uncle Fred left you in his will, you need some furniture to make your shop work.
I had an acquaintance stop by yesterday and he commented on my primary welding table.  I built it about ten years ago and take it for granted most days.  And I hope that some 4 year old doesn't split their head wide open on party days when it hosts the buffet and the kids are cranked up on Sunkist Orange Soda and their parents are watching NASCAR.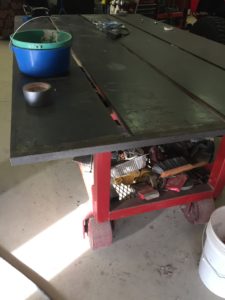 At 52×99 inches, it will handle items over 4×8 with ease.  At 1,200 pounds, it will not likely be stolen.  The one time I had to move it, I used a car trailer and four friends who work for beer.  The casters are older than I am and came to me in a junk trade.  The main frame is 3x3x.188 square tube and the top is four pieces of 1″x12″ steel with a 1″ gap for clamps.  It is fat, flat and handy as hell.  It cleans up nicely with paint thinner or WD-40.
A shop guy needs to sit once in a while, and one chair is not going to cut it.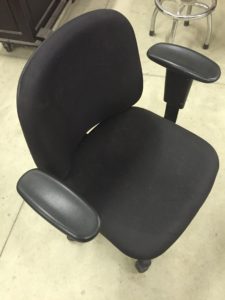 I was in a second hand store in Bozeman Montana recently when the local Schwinn collector (a nice guy, BTW) told me this kind of task chair (above) was a $300 chair. I passed and found this sweet as hell example of the same damn chair at an estate sale in California a few weeks later for about $30.  I cleaned it.  That's it.  Infinitely adjustable; its pretty bad ass.  Will it solve all my problems?  No. But neither will $2 draft beers and we all find those wildly popular.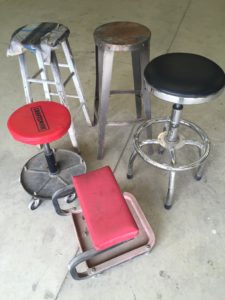 Some useful things are not visually appealing; like $500 cars.  That ugly as hell thing in the left rear is over 20 years old and still works great for painting small parts outside.  The current cover is paper with masking tape over black widow eggs and bird shit.  The rusted metal stool next to it has obviously seen some outdoor duty, but I haven't painted it yet, so it stays out when relatives visit.  The black topped thing on the right was a gift and is only good for pizza and beer duty.  These are at Costco and have held up pretty well.
The round Craftsman stool on the left came with shit wheels.  Fred Flintstone could do better.  Two years in and it was cooked.  When I rolled (figuratively) into Sears to exchange it, they told me to pound sand.  Screw those guys.  I went to Orchard Supply Hardware and dropped the value of a brand new replacement Craftsman stool on five 2″ casters that changed its usefulness by ten fold.  I love that thing now.  The squatty square red thing in the front is useful if you weigh over 225 pounds and like to fall over backwards a lot.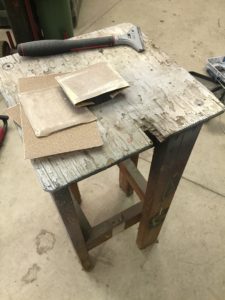 This homely AF stool was built about 1991 by me in a rush because I needed something to sit upon on some Saturday afternoon.  Since then my kids painted it, I painted it, it lived outside, I screwed stuff to it; I abused it.  But that notch in the front of it has a story.  I had a 6″ bench grinder clamped to it one day (before the welding table from above was built) and the wheel grabbed the rod I was grinding.  It came out of my hand and spun down hard enough to rip into that 3/8″ plywood and flip that stool and bench grinder onto the ground still running.  I shit my pants and went inside.  I still don't have a great place for the bench grinder, but its not going onto this rickety thing again.
If you like to have all your junk sitting in plain sight, you need a tool bench.  My dad LOVED tool benches!  He thought they were useful; I don't.  He never had a real tool box.  A tool box for him was a hand box.  He was a much smarter man than I, but he was clearly missing the boat on the modern roller tool box idea.
My version of my dad's "tool bench" is a roller table with peg board and a power strip to charge shit.  This is where the DeWalt batteries and other pop culture items go.  It is a catch all for the shop and is, not surprisingly, not very organized.  You can find this style base table at auctions from time to time.  I modified this one by a bunch.  They still make them; I wouldn't buy new.
If you want to hide your junk, you need some old lockers.  These have worked well for the kid's motorcycle gear, but could work equally well for a variety of other shenanigans from arts and crafts to motor parts.  I sanded and painted these, but that is it.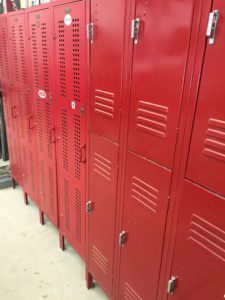 If I were to avoid something in the line of shop furniture, it would be fiber board and other shitty materials.   Buy things at auction, clean them, sand them, pick a color, paint it and call it your own.  In my quick trip through my own shop furniture, there are not many "new" items.  Buy good, used solid pieces and make them your own; or build your own.  It they get run down, think of recycling and repurposing them for paint stands or other dirty jobs.  Your shop productivity will thank you.