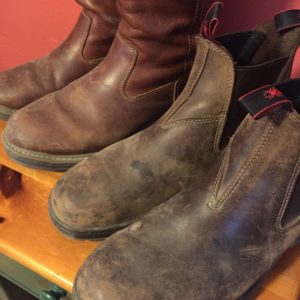 We all wear shoes.  People buy all kinds of them for all kinds of reasons.  Folks buy them because a singer or actor told them "these will get the girl" or "these are made of recycled bags and dead car batteries" or some shit.  Maybe some washed up quarterback agreed to have his picture on an ad and the memory of that guy driving his team to victory in 1987 makes you drop $100. Good for everybody involved; that is the free market at work.  There are many of us on the job and in the trades that make a  work shoe or boot purchase based on something a little different:  Performance on the Job.
Wherever your job takes you will determine what you put on your feet.  If you just go out and buy what your Cousin Freddy says is a good deal, you may be disappointed.  Or if you sit most of the day, you may be able to cut a few corners.  If you can get away with purchasing Brahma Boots or Herman Survivors, then great for you.  You will have more beer money on Friday night. To be brutally honest (and to clear my name from being a shoe snob), I had a really good experience with a pair of Herman Survivors 10″ Wellingtons one summer.  These can be found for under $50 in some cases.  You CAN spend a LOT more if you go very far down the rabbit hole (check out Russel Boots if you want to see what that pair of Ostrich skinned hunting boots you've been dreaming of is going to cost you).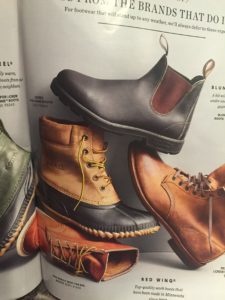 For those of us who carry a few extra pounds and who work on concrete all day long, the decision can mean avoiding leg and or back pain.  My weapon of choice the past few years has been the Red Wing model 405.  It kills me that this is not made in America, but the combination of waterproofing, cushioned wedge sole and moc toe is a winner for me.   Paint, mud, manure, weld spatter, grease, oil and sharp objects all take their toll one day at a time.  Nothing will last forever, but I take care of them and I get what I pay for.  The picture below is what a year in a boot looks like from my view….at about 60+ hours a week.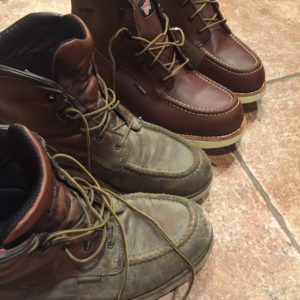 Does that mean that this boot will be the perfect one for you?  Likely not. Firefighters swear by Whites.  The Australians go for Red Backs, Rossis and Blundstones.  Wolverine, Thorogood, Danner and Chippewa also make some great work boots; some are even American made.  Justins and Ariats are popular around here and with my two sons.  Go to the store and try some on with no intention to buy.  "Hand Stitched", "Heritage", special materials and limited runs are a way for the old brands to lure in the hipsters and improve their bottom line.  I am not in a position to spend $300 on a pair of shoes, so you will have to get reviews on those products elsewhere.
Make a good work boot buying decision!  Think about what you do and where you do it before you hit the store to see what the latest models are going to promise.  Do your homework.  If you are lucky, you will be able to find something that works well for you at a price that you will be able to afford.  Your body will thank you.